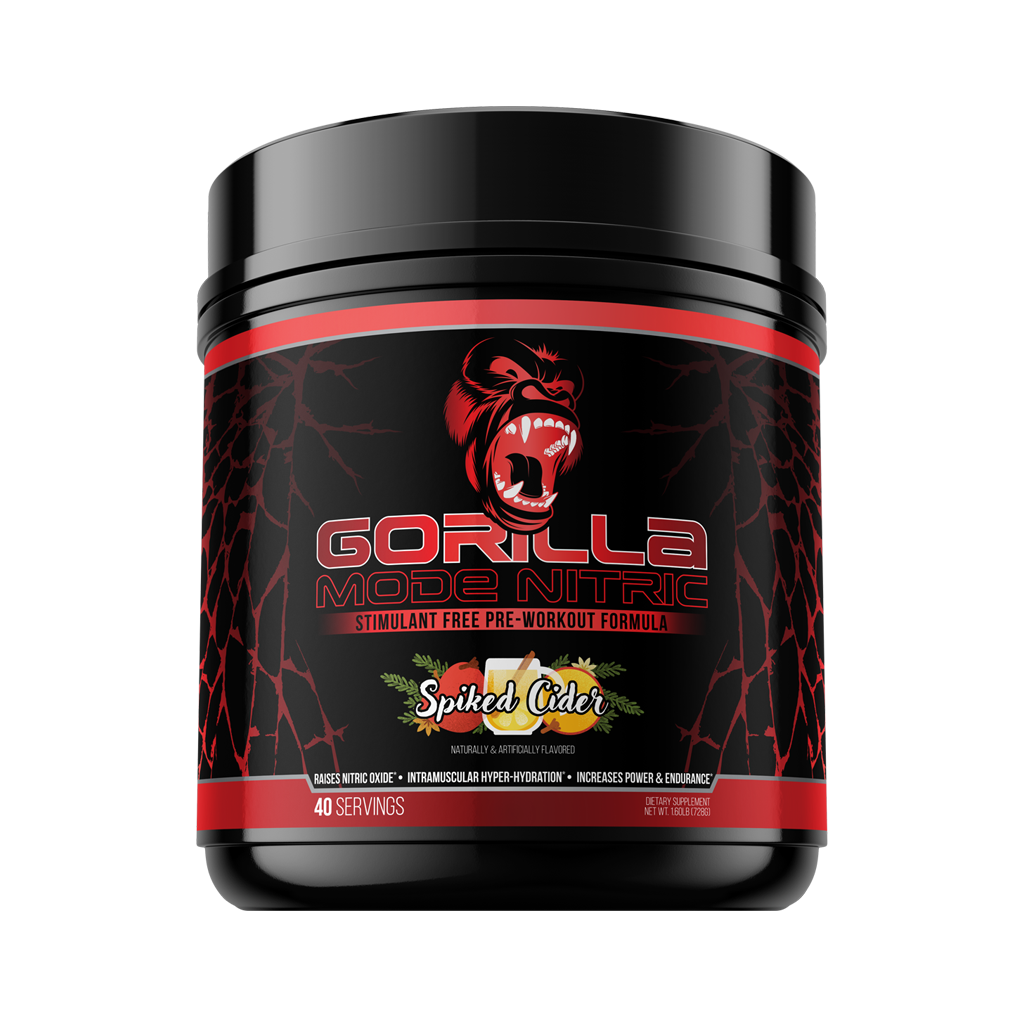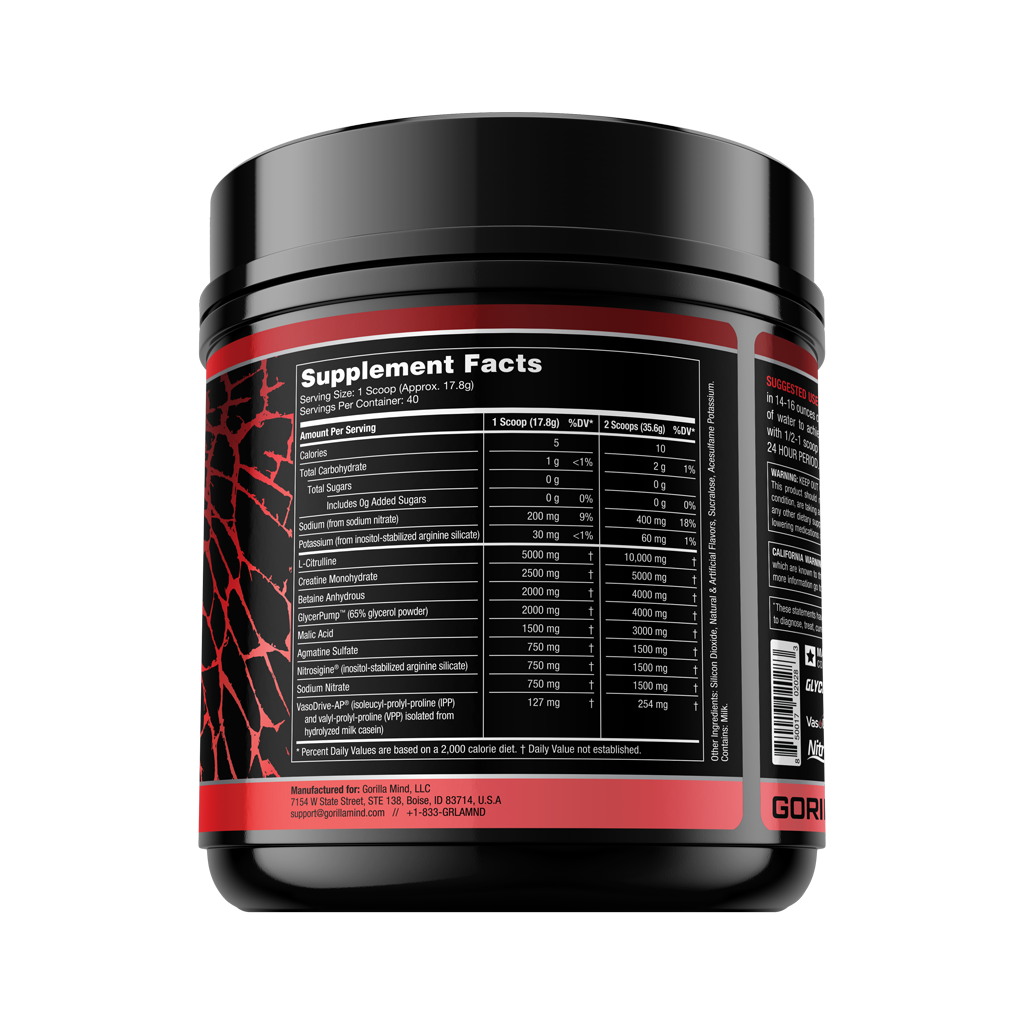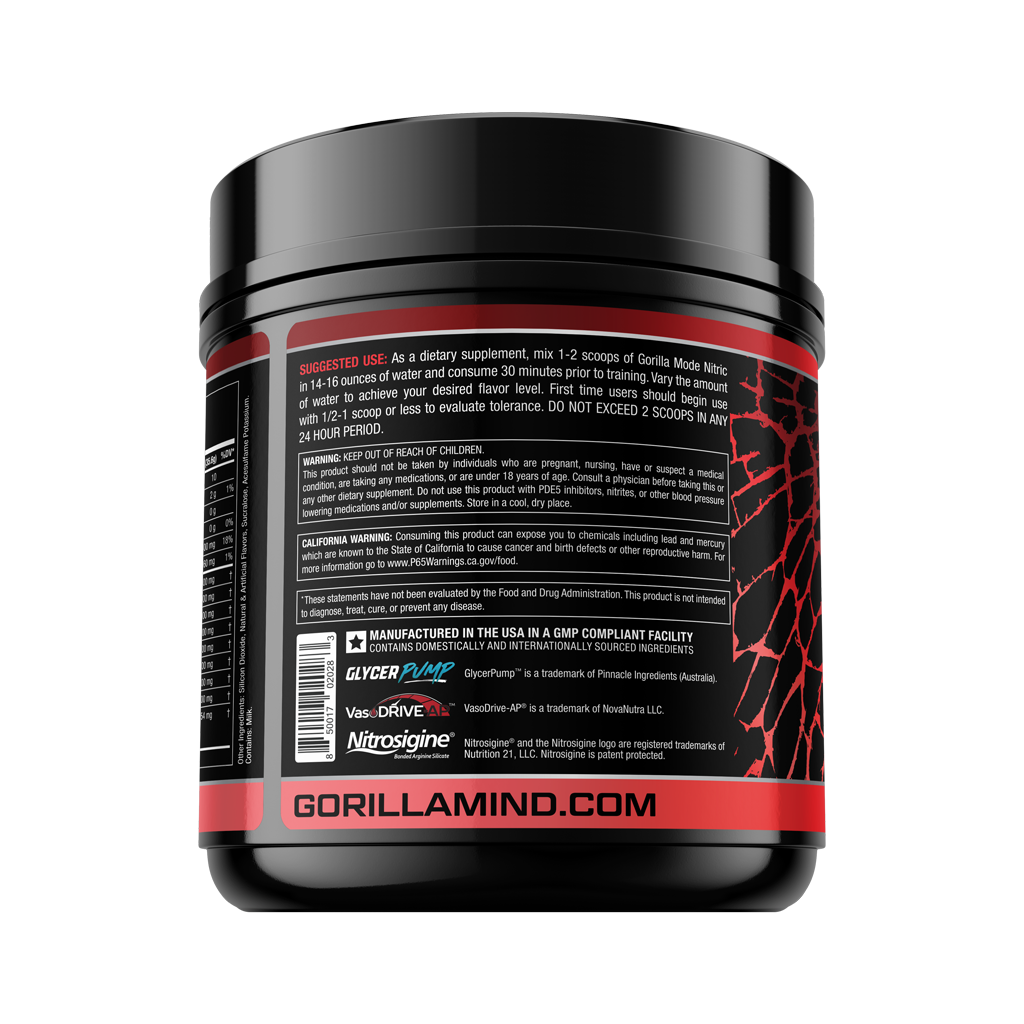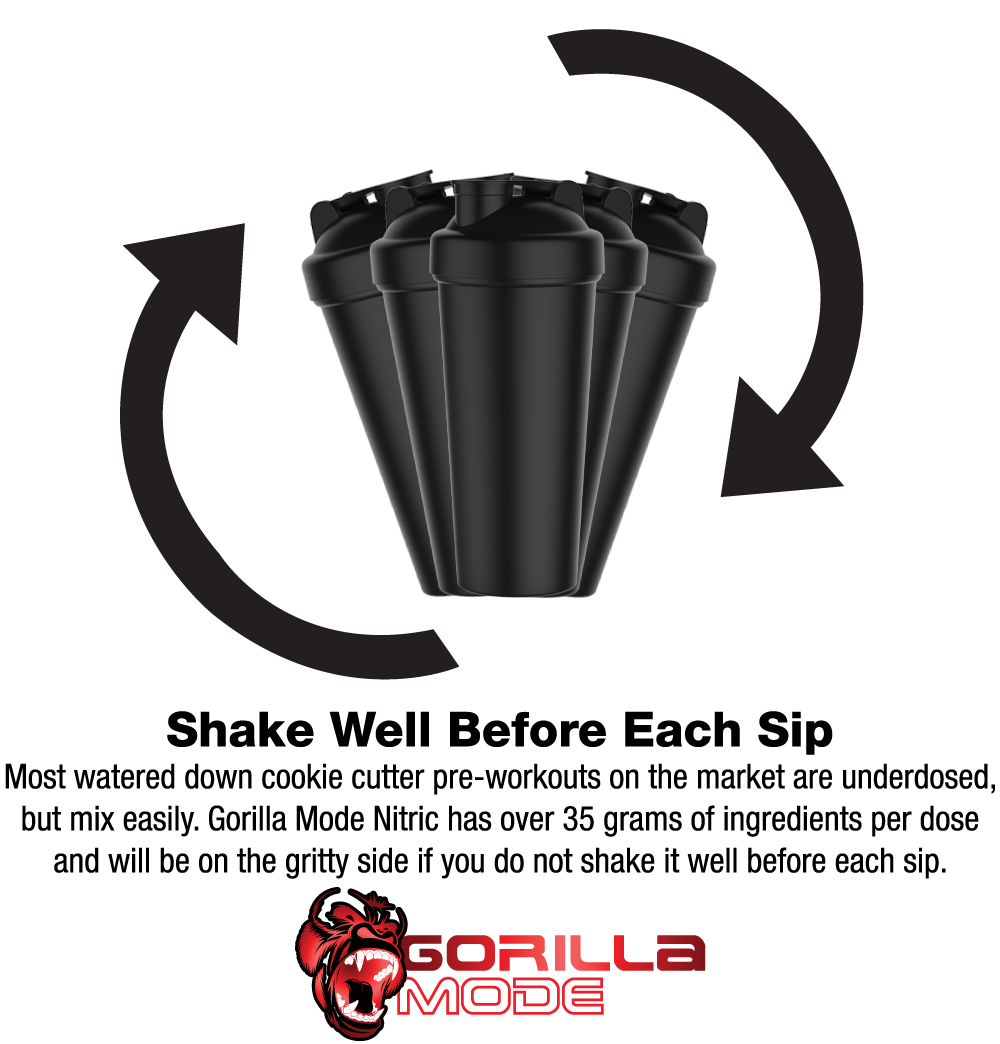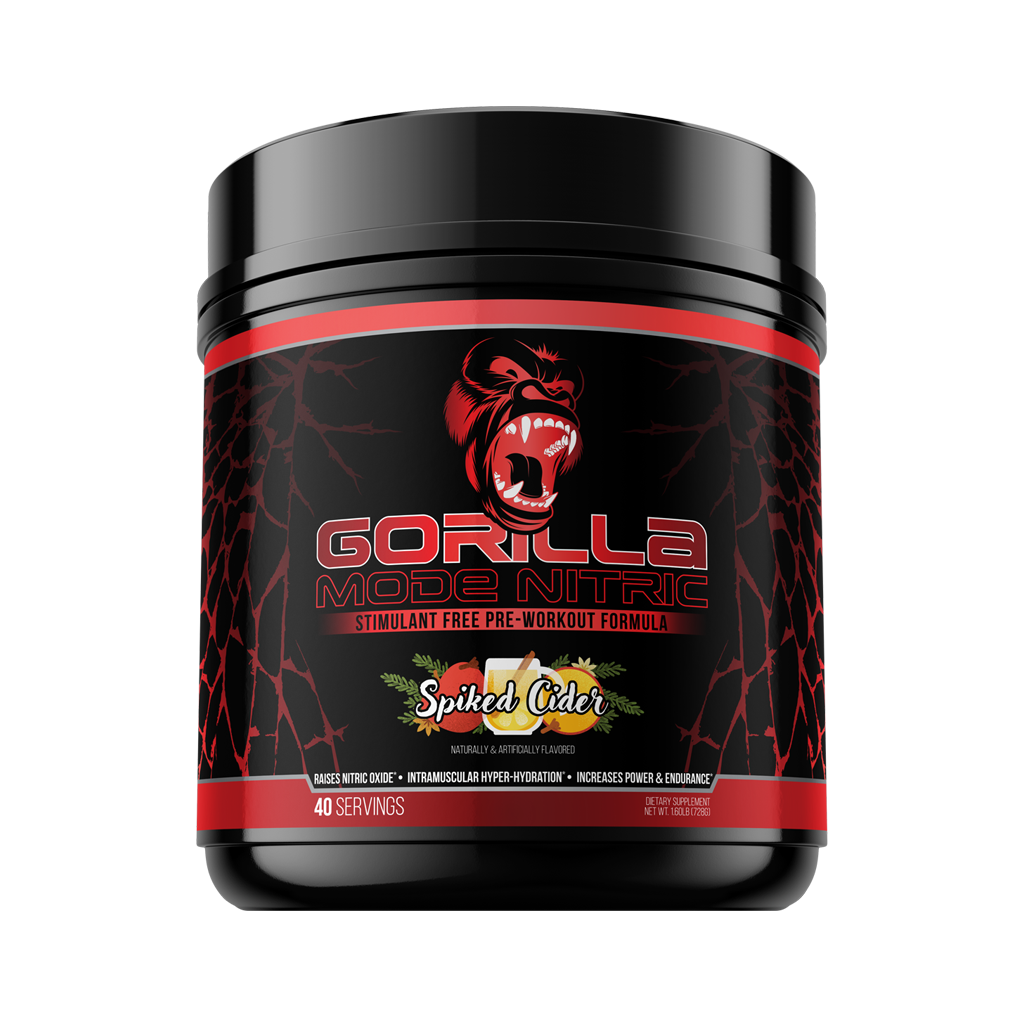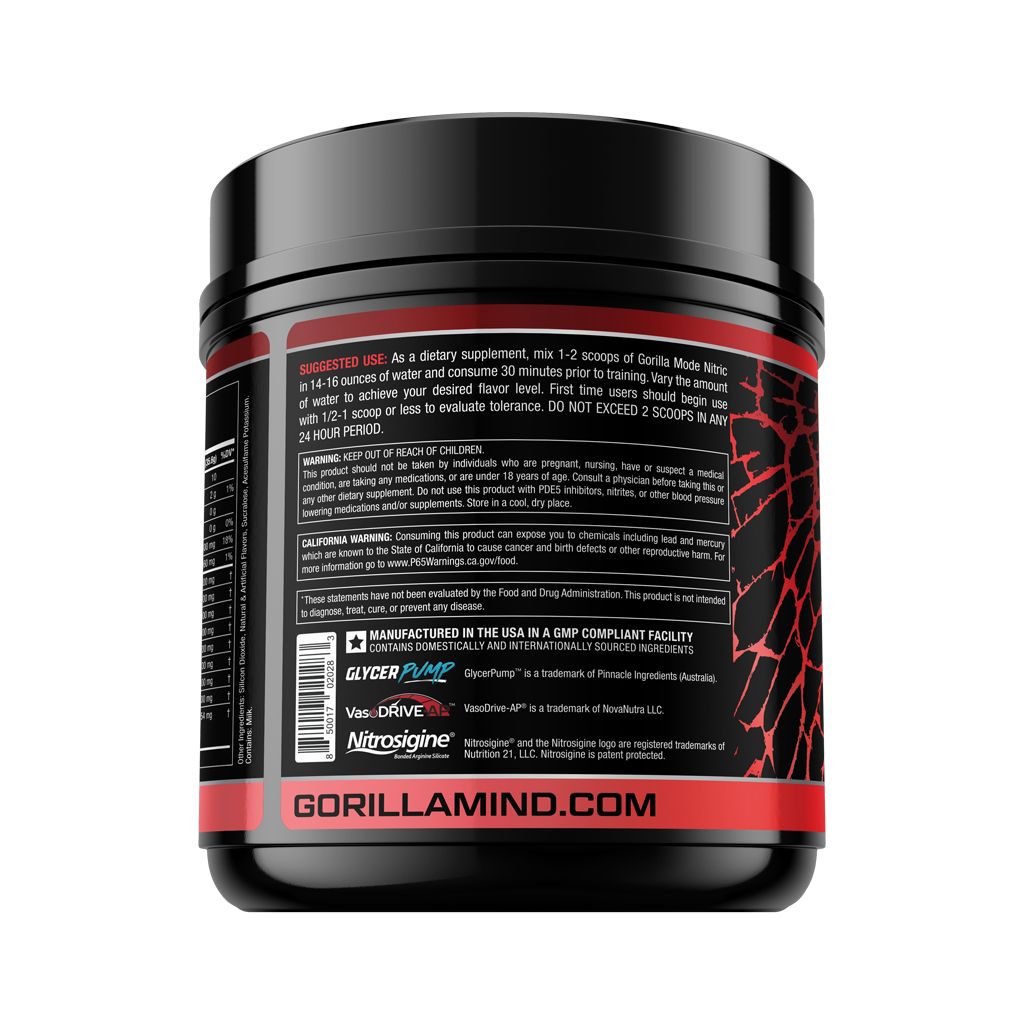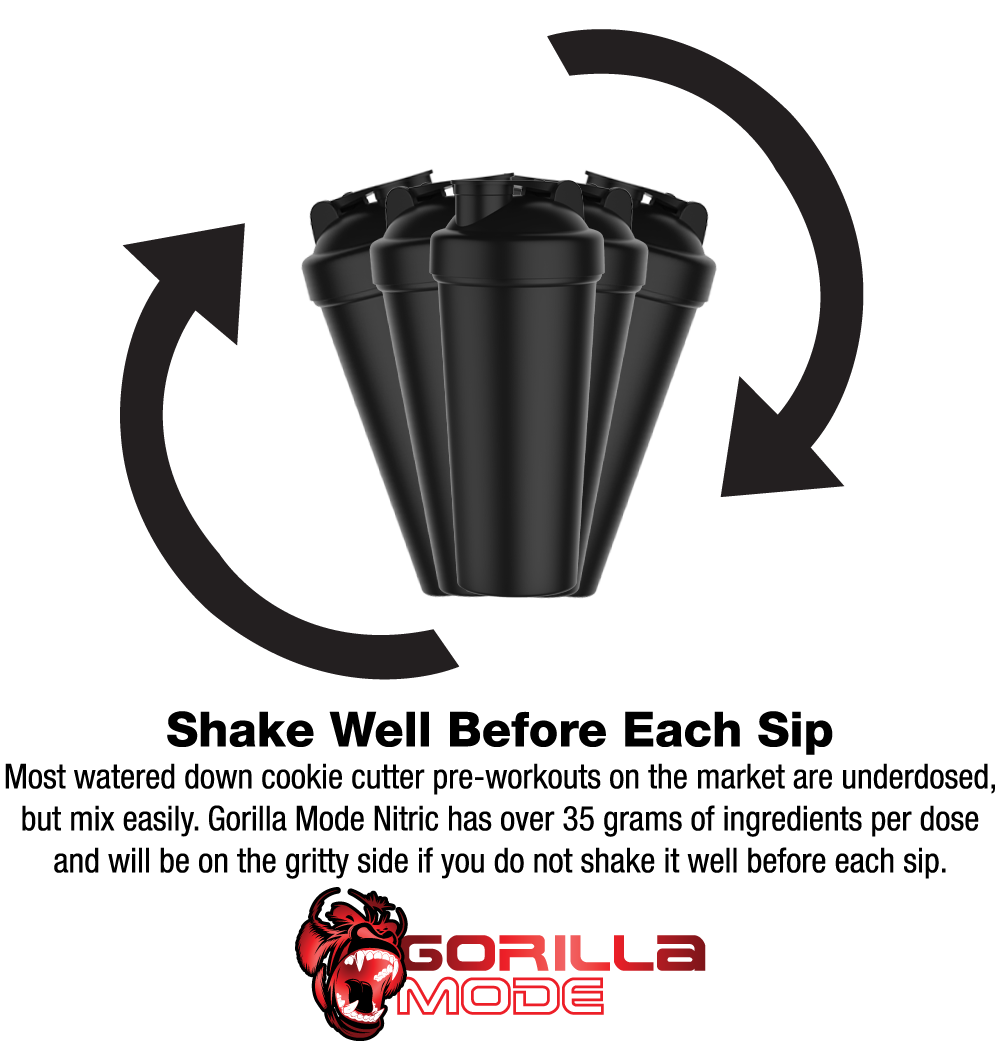 Purchase Type
Raise Nitric Oxide*
Intramuscular Hyper-Hydration*
Stimulant-Free*
With Gorilla Mode Nitric you can expect a massive increase in nitric oxide (NO) levels, vasodilation, intracellular hydration and as significant of a boost in muscle strength and endurance as you can get from a legal non-hormonal pre-workout. This product is maxed out from all angles.
The traditional Arginine–eNOS–nitric oxide (NO) pathway is completely saturated with an unheard of dose of L-Citrulline, as well as topped out dosages of Nitrosigine and Agmatine Sulfate for good measure.
Over a gram of nitrates also ensures that the nitrate–nitrite–nitric oxide (NO) pathway is taken care of.
Intracellular hyper-hydration is best-in-class too with a huge dose of Creatine Monohydrate, Glycerpump and Betaine Anhydrous to volumize the muscle and support performance and pumps.
Inhibiting the enzyme angiotensin converting enzyme (ACE) with a clinical dose of VasoDrive-AP® also checks off another pathway to push the boundaries on supraphysiological levels of vasodilation.
Finally, a high dose of Malic Acid was included for good measure to act as a Krebs cycle intermediary and support greater levels of muscular endurance.
Flavor Descriptions
Spiked Cider - Tastes like the Holidays! Features a soothing blend of pressed apples, cinnamon, and cloves.
Strawberry Kiwi - A 

unique fusion of ripe strawberries with the tropical tang of Kiwi, perfect for summer.

Cotton Candy Grape -

This flavor has nostalgia infused into every sip! Sweet, melt-in-your-mouth carnival cotton candy with hints of juicy grape. 

Bombsicle -

The iconic Cherry, Lime, and Blue Raspberry combo from your favorite childhood popsicle.

Cherry Blackout - 

Rich and sweet black cherry flavor with a subtle tanginess for a bold and distinctive taste.

Firefly Lemonade -

Reminiscent of ice-cold lemonade on a hot summer's day.

Fruit Punch -

A well-rounded blend of fruity flavors that will remind you of a tropical island.

Krush -

Exploding with a bold orange flavor that tastes just like orange soda.



Lemon Lime - A mix of lemon and lime that tastes like a Sprite/7up soda
Jungle Juice -

A coconut, pineapple, and mango concoction perfectly blended into a refreshing juicy flavor.

Mouthwatering Watermelon -

Juicy and refreshing. Evokes the taste of summer with a thirst-quenching sweetness and subtle sourness.

Pi

ña Colada

 - 

Combines a burst of pineapple sweetness with a smooth & creamy coconut undertone for a juicy flavor reminiscent of a sunny beach.

Tiger's Blood -

A tropical blend of strawberries, coconut, and watermelon that tastes just like a tiger's blood snow cone.

Volcano Burst -

Bursting with fruity flavor. Combines the sweetness of pineapple and mango with the tanginess of orange for a refreshing and delicious flavor profile.
Blackberry Lemonade / 1 Tub
Mouthwatering Watermelon / 1 Tub
Cotton Candy Grape / 1 Tub
Ingredients we've certified:
All Sodium (from Sodium Nitrate) Certificates:
All Potassium Certificates:
All L-Citrulline Certificates:
All Creatine Monohydrate Certificates:
All Betaine Anhydrous Certificates:
All GlycerPump™ Certificates:
All Malic Acid Certificates:
All Agmatine Sulfate Certificates:
All Nitrosigine® Certificates:
All Sodium Nitrate Certificates:
All VasoDrive-AP® Certificates: